Djembe Repair
I first learned the craft of re-heading djembes in 1999 from Sandy Blocker of Talking Drums, Inc., Mohammed DaCosta of Boke, Guinea, and Madou Dembele of Mali. I felt it was important to know your instrument from the inside out, so I began the long road of studying different techniques of re-heading. I'm still on the road...
Estimates:
Re-heading is different for every djembe, so in order to estimate the cost I need to inspect it first. The typical questions I ask are:
Is the rope the right size, good quality, and reusable?
Are the 3 (or 4) steel rings a good fit?
Is the bottom ring steel or wire or something else?
Is the bearing edge smooth and the correct profile?
Are there any cracks that need fixing?
Pricing:
The basic price, including all labor and a new goatskin [thin or medium] is $130 for services engaged on or after 7/28/22. Thick goatskins cost a bit more, so that is added to the total price. If I have done your drum before, you get a 10% discount! Yay!
This includes:
mounting a new goatskin head (for calf/cow, contact me to discuss)
repairing minor cracks
oiling the shell if needed
minor sanding/cleaning of the bearing edge
all labor and materials for the above

Skin:
Hair: choose between hairless goatskin, shaved to a stubble, or with regular hair. If you have a specific hair color, let me know. I usually have black, brown, and off-white in stock.
Thickness: choose between thin, medium (default), or thick (when available).
Skin Finish: choose how you would like the skin to be finished: cuff style (my default method), with a twist, or trim style (see photo to right [if you're reading this on a computer] or below [mobile]).
Rope:
If your djembe needs new rope:
For verticals: add $15 for whole drum. For drums with more than 32 hitches - $20.
For new cradles: $15 per ring. Includes new fabric wrap if desired (usually a good idea!)
I typically have several colors of 4.5mm - 5mm rope in stock, or I can source it from area stores or websites (cost will be a little higher) for specific colors and sizes. I also offer used rope in good condition for 1/2 the price (verticals only). This is rope I've taken off other drums that is still in great condition and I'd love to keep out of the landfill.
Rings:
If your djembe needs new rings:
New rings are 1/4" cold-rolled steel rod and $20 per ring. I roll, weld, and finish them in-house.
Resizing rings are also $20 per ring.
If your current rings just need simple grinding or filing sharp edges, this is included in the basic repair price.
Additional Services:
Re-shaping and preparing the bearing edge - $50
Total shell sanding and refinishing - $75 (several choices of finishes)
Repairing major cracks - $25/hr + cost of special materials [epoxy, wood filler, etc]. Major cracks are cracks that go all the way through the shell and the wood moves substantially. This also covers holes through the shell, or other catastrophic conditions.  
Adding tack decoration - $25/hr - Let's talk!
Tune Up:
If your drum just needs a tune-up, this service is billed hourly ($25/hr) with a minimum charge of $20, depending on the complexity and time it takes. For example, if you just need the head tightened with the weave technique or "diamonds", this is quick and cheap. If you need your drum's rope loosened completely and re-pulled, this is more expensive. If it's a simple 10-minute job, it'll be no charge. I'm also glad to teach you how to do this so you'll have the skill for the future.
Timing:
For re-heads, I can usually get your drum done in 2 weeks or less, depending on the weather, my schedule, and the queue of instruments at the time. Your drum will be returned to you tight and sounding great! I'll also advise you on how to take care of your djembe, including wood and goatskin care. If you need a faster turn-time, I can sometimes accommodate that.
Shipping Your Drum:
If you are not in my area and still would like to discuss a repair involving shipping your drum: all repair charges are the same, and there is an added $20 handling fee per drum (this is due to the added work and time it takes to pack and ship). I require that you double-box your drum or make sure you pack it really well: enclose the drum in a waterproof plastic garbage bag, choose a strong corrugated cardboard box and use lots of padding inside. I will reuse this box and packing material when I return your drum!
Including pre-paid return shipping is a plus. My clients have had success with UPS and FedEx using this method. Otherwise, USPS costs can range from $35-60 each way with insurance and tracking.
I don't do this very often because it can be expensive and, although rare, drums can get damaged or lost in transit. But this has never happened to me or any of my clients thank goodness! Finally, If you'd like to estimate your shipping, use Pittsboro, NC, 27412. 
Other Types of Repairs:
Yes, I do plenty of other types of instrument repairs! I repair ashikos, koras (my other specialty besides djembes), ngonis, congas, bongos, kalimbas, and other hand percussion instruments. Just get in touch, as each of these jobs are unique and require all different kinds of work.
To Schedule:
To inquire about a repair, just get in touch using the Contact page. My workshop is in Pittsboro, NC, 27312 (population 4,221!)
have you ever wondered what goes into a djembe repair?
Check out this 90-second video of a complete rebuild that i did in august of 2022.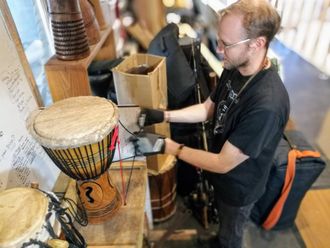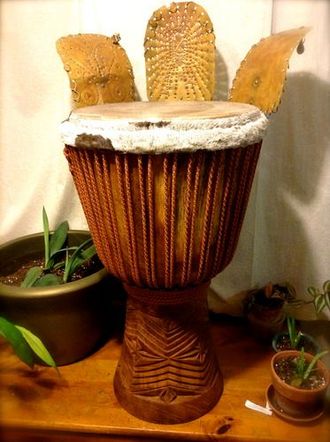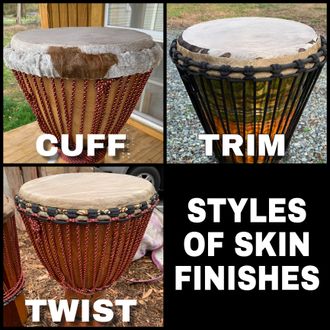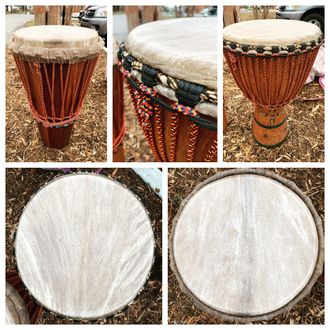 ---
Below are a few of my favorite videos that help explain how to tune your djembe, the first one by Mohamed DaCosta from Boke, Guinea, and the second by Michael Taylor in Chicago.
---