Yes I Teach Music Lessons - VIRTUAL AND IN-PERSON
During the COVID-19 Pandemic, I started teaching virtually over Zoom (preferred), Skype, and FaceTime, and this has literally been my saving grace... my bread and butter during this time of social distancing and lockdowns.
I currently teach on Mondays and Thursdays, and I have an enhanced audio and visual set-up for my students with multiple cameras and high-quality audio.
For drum set students: 2 or 3 camera angles including a foot-cam and birds-eye-view. My drum set is mic'd and balanced through a mixer and audio interface before it reaches Zoom.
For kora students: 2 camera angles including a close-up of the strings as if you were playing. My kora is mic'd with a condenser microphone so the audio is high-quality.
For percussion students: 1 or 2 camera setup with a close-up of my hands on the instrument. I'm still toying with this one; seeing what works best. High-quality audio of course!
I would like to acknowledge the amazing support provided to me by the United Arts Council of Raleigh and Wake County and the North Carolina Arts Council, a division of the Department of Natural and Cultural Resources. Through their Artist Support Grant program, I was able to acquire an interface and condenser mics that make your learning experience top notch!
Prices and duration choices for Drum Set and Percussion:
30 minutes - $25

45 minutes - $35

Payment is through PayPal. I will give you details upon confirmation of lesson scheduling.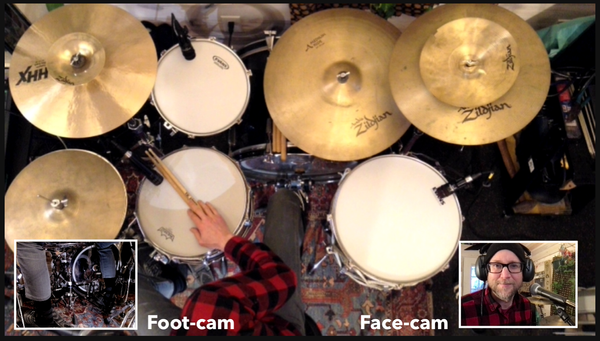 Prices and info for Kora:
They are usually 1 hr long, and each student gets access to short video tutorials of each piece that is studied. Get in touch using the Contact Page!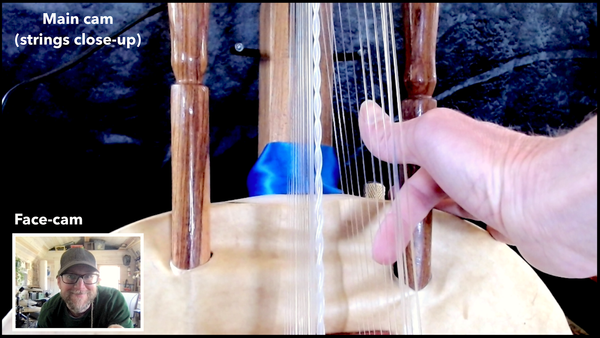 The following instruments / styles are currently available: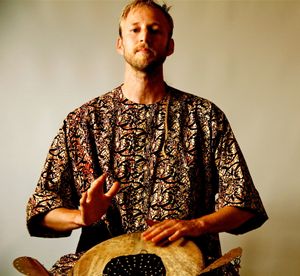 Drum Set: beginner-advanced, many styles including rock, funk, world, punk / hardcore, and basic double-kick techniques. Techniques and concepts of independence, interdependence, linear, and rudiments are emphasized according to the student's preferences. No music theory required and OH YES we have lots of FUN!

 


 
West African Djembe and Dununs: beginner-intermediate. Technique, voicing, training exercises, traditional rhythms taught in original and traditional arrangements. Rhythms passed down are from lessons, workshops, and classes I've taken since 2001, with a focus on those of my primary teachers: Madou Dembele (Ivory Coast/Mali), Mohammed DaCosta (Guinea), Haruna Sidibe (Mali), Ousemane Ndiaye (Senegal), Cheick Sissoko (Ivory Coast), and Sandy Blocker (USA).
 
Afro-Cuban / Latin (Congas, Cajon): beginner-intermediate. Salsa and Rumba rhythms are taught, and Clave concepts explored. Teachers whose knowledge I pass down are Michael Spiro (USA) and Sandy Blocker (USA).
 
General Rhythm: I teach specifically and traditionally, but I also would enjoy teaching anyone who wants to know anything about hand drumming! It's a very healing activity for your mind, body, and soul!
 
Kora: For lessons on the West African Kora, please get in touch for details. Pricing and duration are different. Thx!
To schedule your lesson, get in touch using the Contact page.
Pics and testimonials from students and parents
Will is the king of teachers. - Sandra Z.
I have been taking lessons with Will since 1st grade and I am now going into 9th.  He has taught me almost everything I know about rhythm and percussion, but more importantly, how to listen and how to play musically, not just correctly.  He has built the foundation for my musical growth and continues to challenge me as I progress forward. I play many instruments, and I may only take percussion lessons with Will, but through percussion he has taught me many lessons that I value and use across the entire musical spectrum.  Will is the kind of teacher who looks at the big picture and teaches his students to not just play a rhythm, but to play music, and to understand it as well.  - Cypress P.
Will's djembe classes are the greatest. I started off with no background in drumming. He teaches in a methodical way, and wants you to hit your drum right. After a few weeks I was able to join a drum circle. He also encourages you to bring in patterns that you find somewhere on the web and works with you to perfect them. Will's classes keep you motivated: when I wake up in the morning I think to myself, great, drumming class today! - Luc B.
My son has been taking drum lessons happily from Will for 4 years working on both djembe and drum kit. As a professional musician and performer, he capably provides drumming skills and solid music fundamentals that can translate to other instruments. In addition, Will is fun, kind and respectful. He understands how to teach kids rigorously without creating a punitive dynamic and how to treat them as people. Our family is so happy to have found him as a resource. - Emily E.
When researching potential percussion teachers, I was looking for an experienced professional musician who could teach me West African rhythms and the histories behind them.  With Will I got that and more.  Will has the chops and experience studying and performing in West Africa, but he also has easily adapted lessons on the spot to address my evolving needs and desires.  Over the past few months I have worked with him on congas, djembe, and the cajon and I have consulted with him before buying new percussion instruments. He will work with you to figure out what you want to get out of the classes and will develop a lesson plan to meet your needs.  On top of this, he is a smart, fun teacher who makes lessons thoroughly enjoyable. - Todd O.
Will is talented musician who is a fantastic teacher, attentive and very patient. He can meet you at whatever level you are at, while inspiring you to keep improving. Will is warm and funny and kind, but also organized and fully dedicated to the music. No wonder I always look forward to my next lesson! - Sandra Z.
With over 20 years of experience playing multiple instruments and styles, Will has a unique breadth of musical knowledge. He not only knows the the music, but has the ability to teach in a way that is appropriate for an individual's learning style. Will's approach to teaching Kora is based on the cultural tradition in which he was taught. This method requires a student to demonstrate the ability to play a beginner piece, before moving on to increasingly more difficult music. He has the ability to quickly identify problem areas and offer creative solutions to resolve them. Most importantly, Will's love of music translates to an enthusiasm which has inspired me to study with him. - Chris K.